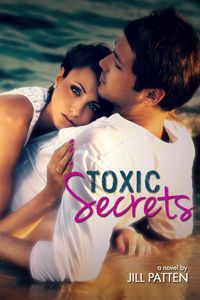 ~Synopsis~
Seventeen year old Courtney Peterson always thought her future would consist of marrying her high-school sweetheart, becoming a stay-at-home mom, and living a happily ever after. All that changes when she finds out the boy who stole her heart three years ago resorts to cheating. Ending that relationship will be harder than she could imagine, but she is determined to move on, agreeing to go on a blind date with the older and cryptic Jaxon.
Jaxon Vaughn blazes into town for a short visit, taking steps down a new path in life. After facing unexpected tragedies at a young age and turning to self-destruction, he aches to redeem himself by opening a bar in his grandmother's hometown. It is there he meets the pure and soulful Courtney, whom awakens the guilt that dejectedly haunts him.
Distance and circumstances may separate them, but they are unable to ignore the chemistry that draws them together. Can their relationship survive, or will it be shattered by clingy exes, mysterious phantoms from the past and unforeseen misfortunes?


~ Our Review ~
4.5 Star review by Heather
This book will draw you in from page one. It will have you so frustrated. I seriously wanted to jump into the book and slap some of the characters.

Courtney is a seventeen trying to get out of an unhealthy relationship. She wants to stay away from Phillip, but she loves him. She broke up with him after dating a few years when she found out he was sleeping around on her. She tries to just be friends, but he knows how to charm her. She tends to not be swayed by him when she meets Jaxon. Though Jaxon is only around for a couple weeks visiting. Can she get away from Phillip? Will she allow Jaxon in?

Phillip is a douchebag who thinks he can control woman. He is on his way to being a physically abusive asshole. He doesn't want Courtney, but he doesn't want anyone else to have her. He feels that would look bad on him.

Jaxon has a lot of issues. He isn't looking for a girl. He has his fuck buddies and doesn't need the drama of a relationship. He is drawn to Courtney and he knows he needs to stay away because no good can come from this relationship. He can't seem to stay away. Can he allow Courtney in? Can he be the person Courtney needs?

This book is a cliffhanger. I am not going to lie the ending about killed me. I don't want to wait for book two. I don't know if I can read book two because of the way book one ended, but I know I will because I crave this anxiety from a book!
~Excerpt~
Phillip took one final step closer. "Just give me one more chance, please? I'm begging you, and you know I never beg." He was starting to freak me out, displaying a new personality I'd never met before. I'd thought my introductions had been made with all of them by now.
"And if you go on one of you crazy rampages, then what? I'm supposed to forgive you again? I can't keep going through this vicious cycle, Phillip." I suddenly noticed he had slyly made his way into my house. Standing firmly by the door, I wasn't about to let him in any further.
~Dream Casting~
~Toxic Secrets Playlist~

~ Author Bio ~
Jill Patten was born a Yankee, but raised a southerner. She lives in the small town of Mayberry, North Carolina which was made famous by a popular TV show back in the sixties. (Maybe there will one day be a statue of her at the end of Main Street. Ha! A girl can dream, right?)

Jill has always loved to read, even during reading labs in middle school for reading comprehension. Judy Blume was her first author she hero-worshipped, maturing to revere the works of Stephen King. With all the fantastic authors today, she simply cannot choose a favorite. Her taste is very eclectic and she loves almost all genres. When she's not captivated by her fictional characters, she spends time with her sweet husband and two beautiful children.

Music is her muse. Jill also loves elephants, sarcasm, and anything made with sugar, especially sweet tea. She enjoys all things rude and crude and laughs at stuff she probably shouldn't. She has been accused of being bossy a time or two, but doesn't really see it herself.

All in all, Jill is just a small town girl in this great big world trying to enable your book addiction.

Oh, and if you read her book, please leave her a review - good or bad, she'll love you forever.
~ Stalker Links ~


~ What's a Blog Tour without a Giveaway?!? ~
a Rafflecopter giveaway