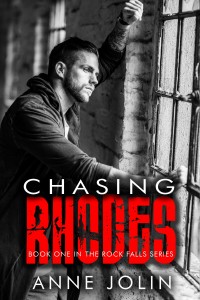 Hannah Rhodes has just gotten out of a long term relationship, and she isn't looking for a new man in her life. But after a night out with the girls and one too many tequila shots, her plans to stay man free are blown all to hell. She finds herself in bed with the smoldering stranger from a party six months back and immediately knows she's in trouble, big trouble. And the last thing Hannah needs is more trouble. Her last relationship took her out like an emotional freight train, and she's trying to piece back the stability her life once had. Greyson Holt's biggest fear in life is to end up like his father, like the man who left him as a child, and broke his mother's heart. He vowed to never be responsible for that kind of carnage. Men could be cruel and that kind of brutality was in his blood. He never allows himself to get too close to anyone, until he meets Hannah. Something about her makes him want to try, but a man can't change overnight. Will Holt be able to catch Rhodes every time he lets her go? Or will their chase end in heartbreak?
~ Book Links ~
~ Review ~
This book was a fast read. It was good. I only wish we saw more from Greyson's POV. I needed more of his POV so I could understand what he was thinking when he acted out.
Hannah is finally out of her long term relationship with Jackson. All they did was cause each other more heartache. She isn't planning on starting up another relationship, but when she wakes up in bed with a man she has meet once at a party and can't stop dreaming about she has trouble staying away. She wants to get to know him better, but she can't do the hot and cold again. Been there done that. But she also knows that there is something between them that she can't just throw away. Can they make it work? Or will they end up hurting each other?
Greyson has some serious commitment issues. He wants Hannah, but doesn't think he is good enough for her. He tries to stay away, but he can't. He wants her and is willing to try to have a relationship with her. But when the going gets tough he starts walking away. Can he learn to have a relationship and not run when it gets tough?
I needed a little more out of this book for it to be a five star read. I needed a little more back story on Greyson so I could understand him better. And I needed Hannah to question him more and stand up for herself. She was a little to weak for me. I like my female heroines to be strong and have backbones. I mean we all have weak moments and that is okay. I wanted her to put Greydon in his place more. Overall this was a great debut novel and I cannot wait to read book two. The friendships between all the characters in this book are fun. They all have their own special quirk. I definitely recommend this book to everyone who wants to read a quick, funny read.
~ Author Bio ~
I'm twenty four years old. I was born and raised in Ladner, a small farm town just outside of Vancouver, Canada. I grew up riding horses, shooting guns with my daddy and driving my '99 red chevy truck, Clifford. I've been together with my handsome redneck, Jacob, for five years and this August we will be celebrating our one year wedding anniversary. I am completely and utterly obsessed with country music. I love to snowboard, go on walks with Bear (Not a real bear silly! Our chocolate lab) and I love to plan events; I don't know if that's considered a real hobby, but it is for me!
We were fortunate enough to travel a lot as a family, and I think that helped spark my love of reading. I'm half Viking, my mom is Danish, and her entire side of the family still lives in Denmark. We'd visit them almost once a year, every year and it's a nine hour flight. That's a lot of uninterrupted time to read (or in my parent's case, entertain four children – Yikes!). My love of reading quickly turned into a passion for writing. I loved to write short stories and although I majored in Business Management, I took as many English electives I could get my hands on in college.
I'm a reader, turned blogger, turned author. I started a blog this June '14 because I love to talk about the amazing books I've read, and after a few suggestions that I try writing a book, I decided to give it a go. I loved it instantly! Having always been a creative person, it felt amazing to harness all that energy and use it to tell a story that I love. I enjoy incorporating bits of my real life into the stories I write – What parts are true? Hah. I'll never tell, what would be the fun in that?
I am beyond excited to be embarking on this new journey as an author and I hope y'all can join me on the ride!
Find Anne: Twitter ~ Facebook ~ Website