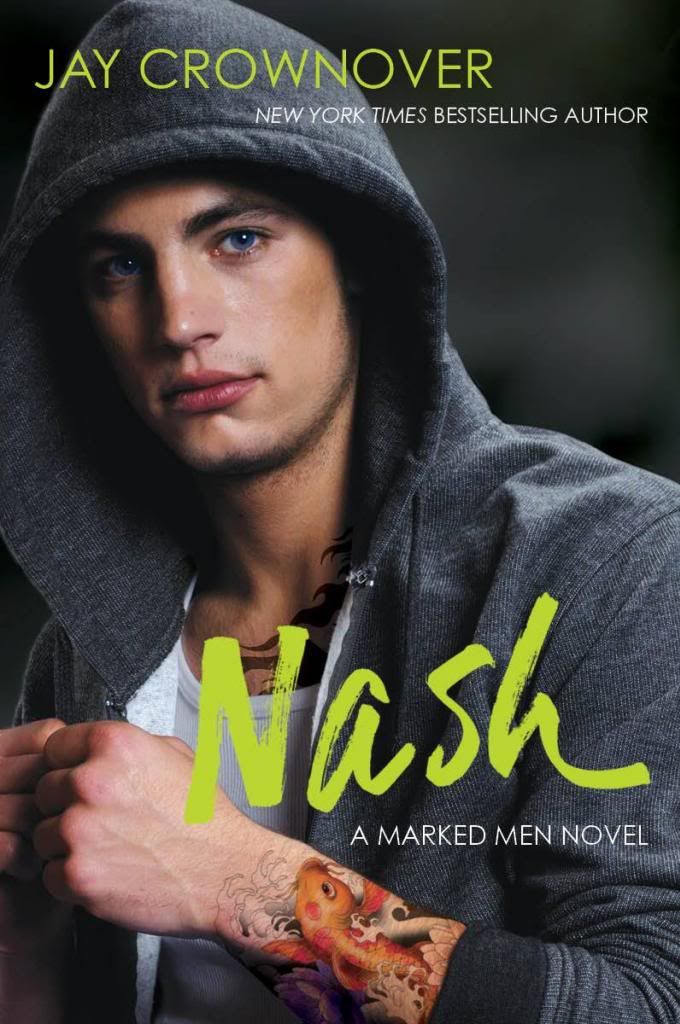 Title: Nash (Marked Men #4)
Author: Jay Crownover
Genre: New Adult/ Coming of Age
Publication Date: April 29, 2014
Publisher: William Morrow Paperbacks, an imprint of HarperCollins




~ Synopsis ~
Will their past determine their future?
Saint Ford has worked hard to achieve her childhood dream of becoming of n
urse. Focused on her work and devoted to her patients, there's no room for love. She doesn't need a guy making waves in her calm, serene life—especially when he's the unforgettable hottie who nearly destroyed her in high school. Dark, brooding Nash Donovan might not remember her or the terrible pain he caused. But he turned her world upside down . . . and now he's trying to do it again.
Saint has no idea that Nash isn't the cocky player he once was. Uncovering a devastating family secret has rocked his world, and now he's struggling to figure out his future. He can't be distracted by the pretty nurse he seems to meet everywhere. Still, he can't ignore the sparks that fly between them —or how she seems so desperate to get away from him. But the funny, sweet, and drop-dead gorgeous Saint is far too amazing to give up on—especially since she's the only thing in his life that seems to make sense.
When Nash discovers the truth about their past, he realizes he may have lost her heart before he could even fight for it. Now, Saint has to decide: is Nash worth risking herself for all over again?
~ Our Review ~
5 Stars by Guest Reviewer Cybill
The Marked Men are back! I loved Rule, I loved Remy and I loved Nash! Who doesn't love great men wrapped up in tattooed, muscled, hotness?! This is Nash's story but we get a glimpse at all the guys.
Nash is a mocha skinned, full body tattooed, pierced God (I personally could have done without the nose ring but the lower piercings are very intriguing). He has muscles, tattoos covering him from head to toe, marvelous purple eyes and a heart of gold. He is enraptured with a fiery redhead ER nurse named Saint. What he can't figure out is why she hates him. Nash has spent his life feeling unwanted by his mother, and unloved by his biological father. He was raised by his Uncle Phil because he wasn't the type of boy his mother wanted. When Phil gets sick, secrets are revealed and Nash has to deal with the fallout.
Saint is an awesome ER nurse. She loves to take care of people, she is great at her job but she keeps her heart guarded. She went to high school with Nash, he was that crush that we all have had. The one that we know we would never stand a chance with but just can't help feeling the infatuation. Saint was the heavy, acne covered, brainy girl in high school. Teased and tormented. She fell hard for the gorgeous Nash and bathed in any attention he would pay her. A mishap at a party and an overheard conversation tears her heart and self esteem to shreds. Now she is a woman who doesn't see what is right in front of her face. She has to try to put her trust in a man that shattered her fragile heart and self image but also a man that sets her body on fire.
Nash has changed a lot over the years and he falls hard for Saint. He knows he can't undo his past but he needs to make her see how great she really and that he is not the same butthead teenager. Proving that unless we love ourselves we can not love anyone else. We can not spend our lives always waiting for the other shoe to drop.
This is a great, quick read. The marked men are wonderful. Next up is Rowdy's story. I can not wait to see the group again.
I'm supposed to share interesting details about myself so that my readers get to know me so here we go in no particular order: I'm an natural redhead even though I haven't seen my real hair color in years, I'm a big fan of tattoos and have a half sleeve on either arm and various other pieces all over the place, I've been in the bar industry since I was in college and it has always offered interesting insight into how men and women interact with each other, I have 3 dogs that are all crazy, I live in Colorado and love the snow, I love music and in all reality wish I could be a rock star not a writer or a bartender but I have zero talent so there is that. I love to write, love to read and all I'm interested in is a good story with interesting characters that make the reader feel something. Thanks for taking the time to check my stuff out...
~ Connect with Jay ~
~ Giveaway ~